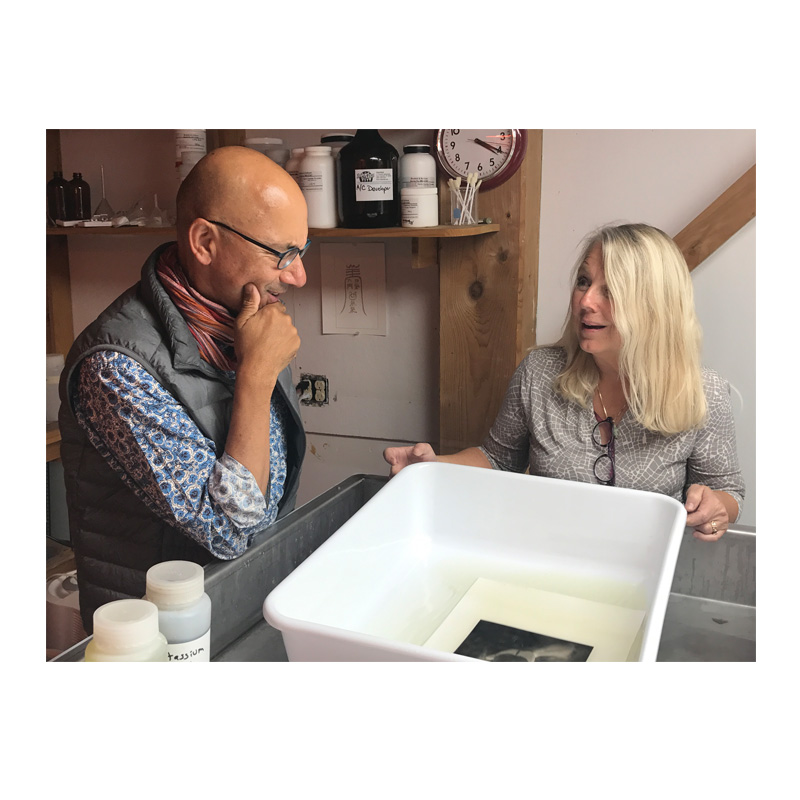 Malde-Ware Platinum Printing Workshop with Pradip Malde
SKU: CEP-WS-MW-AUGUST2021
---
Please Note: In-Person Class Schedules are Subject to Change Due to Covid19 in 2021. Currently, we have been given the green light for hosting workshops provided all attendees have vaccination certificates and continue to wear masks. We have built an outdoor pavilion for meals. We can't guarantee the workshop dates will take place as listed if the CDC or State of Vermont imparts new rules due to a worsening of the pandemic, but we will always keep our attendees informed if anything changes. 

This workshop is designed to teach platinum-palladium printing with enlarged digital negatives, as both an introductory and advanced-level opportunity to become familiar with one of the most highly nuanced approaches to the process.
Platinum/palladium printing has always been valued for its permanence and its ability to resolve tonal values - 'velvety' is a term often used to describe fine platinum/palladium prints. The method taught in this workshop has recently been recognized by conservators as the most permanent variation of the process. The image appears as it is exposed (print-out) and renders remarkably smooth tones, with the legendary 'creamy' highlights and open shadows. All together, this demands the best possible negative. The Piezography PiezoDN Digital Negative system is among the most finely tuned and highly resolved methods for making enlarged negatives. There are a multitude of formulae for making prints from platinum and/or palladium, and the same is true for digital negative making. This workshop concentrates on a particular approach to each: the print-out platinum/palladium method, invented in the late 19th C and refined by Dr. Mike Ware and Pradip Malde during the 1980s, and the Piezography PiezoDN digital negative method.
DAILY PLAN FOR THE WORKSHOP WILL INCLUDE:
Demonstrations: Digital to Printer setups; negative printing; platinum-palladium printing

Discussions: History; Technical aspects of the process; Chemistry, safety and preparation; Folio reviews and aligning process to vision 

Doing: Workroom setups; printing; fine-tuning; problem solving
ADVANCE READING/ REFERENCES
See http://pradipmalde.com/technical-notes/
BIO
Pradip Malde is a photographer and educator who has lived and worked in Tanzania, India, Spain, and Scotland, and currently resides in the United States. His work has been widely published and exhibited across the USA and Europe and is included in various public and private collections, notably the Museum of the Art Institute of Chicago; Houston Museum of Fine Art, Center for Creative Photography, Tucson, Princeton University Museum, Victoria & Albert Museum, London; the Scottish National Portrait Gallery, Edinburgh; and the Museum of Contemporary Photography, Chicago. 
Malde's work sits between fine art, documentary, and collaborative modes of photography practice, but throughout has worked extensively with large format and platinum-palladium printing. His long-term professional collaboration with chemist and photographer Mike Ware, which began in 1981, led to the successful re-formulation of an ammonium-based platinum/palladium printing-out process, derivative of the 19th century process published by Austrian photographers Joseph (Giuseppe) Pizzighelli (1849-1912) and Arthur von Hübl (1853-1932)  in 1883 titled "La platinotypie."
ABOUT THE PLATINUM/PALLADIUM PRINT
"This printing process is renowned for its capacity to activate seemingly homogenous areas of tone. Scrutinizing the platinum/palladium print yields more than the appreciation of technique and materials: it brings to light an intimate and palpable sense of "image." It seems the more we do this, the less separation there is between oneself, the print, and the photographic "window." There is a feeling not only of being a part of the world but of being apart from the world, of looking beyond. The more we look at, and consider this kind of photographic print, the more it seems that we are gazing back at ourselves from another's world. I believe that photographic images as prints have to be compelling. The work has to hold attention. Attention, or being compelled to look at an object (the print), amounts to valuing the subject. Developing value requires immersion, both in the production and reading of the work. It is this kind of sustained attention that builds sufficient energy for us to excavate the links between loss and love, for instance, and begin to answer perpetual questions about what it is to be human." - Pradip Malde
This is a preview of the recently viewed products by the user.
Once the user has seen at least one product this snippet will be visible.
Recently viewed Products